Regular price
€109,00
Sale price
€99,00
Unit price
per
Sale
Sold out
Quality Materials

Same-Day Shipping

30d Money-Back Returns
For stronger ankles, shins, and knees.

For single-leg ankle training in all directions and positions.
Strenghtens muscles and ligaments around the ankle, including Tibialis Anterior.

Can prevent and rehab ankle sprains, shin splints, and knee pain.
Size-adjustable: fits every foot.
Perfect for Knees Over Toes ATG training.
Includes free clip.
Why train with the Solo Tib Bar?

Not only does it strengthen the Tibialis Anterior muscle but also all other muscles, working in different movement directions: Tibialis Posterior, Triceps Surae, Peronaeus Longus, and Brevis.

At the same time, the tendons and ligaments are strengthened. This versatile training makes your knees, shins, and ankles ever more resilient. The Solo Tib Bar can prevent shin splints (Shin Splints) and knee pain and contribute to rehabilitation. Furthermore, it reduces susceptibility to ankle sprains. It also improves the flexibility and mobility of the ankle joint.

It is ideal for motivated beginners, advanced, and professional athletes, regardless of their sport.
25mm or 50mm?

This size specification refers to the diameter of the weight plate holder. To determine the correct size, measure the hole diameter of your weight plates.

If the diameter is 50-55mm, then 50mm is the correct size. For 25-32mm, 25mm is the correct size. In gyms and strength training rooms, you'll typically find only 50mm weights. However, many home gym or dumbbell owners have 25-30mm weights.

The included clip ensures that the weight is securely held in any case.
Regular Tib Bar or Solo Tib Bar?

 

Product
Regular Tib Bar
Solo Tib Bar
Image
Training
Bilateral
Unilateral
✔️
Fast and targeted training of the Tibialis Anterior.
Beginner-friendly, as it offers a very stable support.
Possible to train all ankle movement directions: Flexion, Inversion, Eversion.
Several muscles can be trained: Tibialis Anterior and Posterior, Triceps Surae, Peronaeus Longus, and Brevis.
 ➖
Training possible in only one direction of movement (Tibialis Anterior).
Training is time-consuming since legs need to be alternated.
More challenging, as there are more degrees of freedom and hence less stability.
For Whom?
Beginners, Intermediates who don't want to neglect the basics.
When you want to focus on the Tibialis Anterior.
For motivated beginners and intermediates.
When you want to work the entire ankle joint.

 
How to train with the Solo Tib Bar?

With the Solo Tib Bar, you can perform a variety of ankle exercises:

1. Tibialis Raise / Flexion: In this exercise, the ankle is flexed by pulling the toes towards the knee.
2. Inversion: The ankle is flexed inward under load.
3. Eversion: The ankle is flexed outward under load.
4. Ankle Circles: The ankle is rotated in a circle under load.

For exercises with the Solo Tib Bar, sit on a flat bench and let one leg hang over the edge. Pick up the Solo Tib Bar with one foot. Perform the respective movement 15-20 times. Choose the weight accordingly. 2.5 - 5 kg is sufficient for most beginners.
Product Features

| | |
| --- | --- |
| Material | Sturdy anthracite-colored iron frame |
| Padding | Comfortable conic HDR foam padding |
| Weight | 2.5 kg |
| Dimensions | 35 x 25 x 15 cm |
| Max. load | 38 kg |
| Additional features | Width-adjustable. Incl. free clip. |
Quality Materials – Built to Last

Our products are manufactured using high-quality steel, with superior welding techniques. This ensures you receive long-lasting performance without compromise.
30d Money-Back Returns

If you're not completely in love with your purchase, send it back through our 

Returns Portal

 within 30 days, no questions asked.
Share
View full details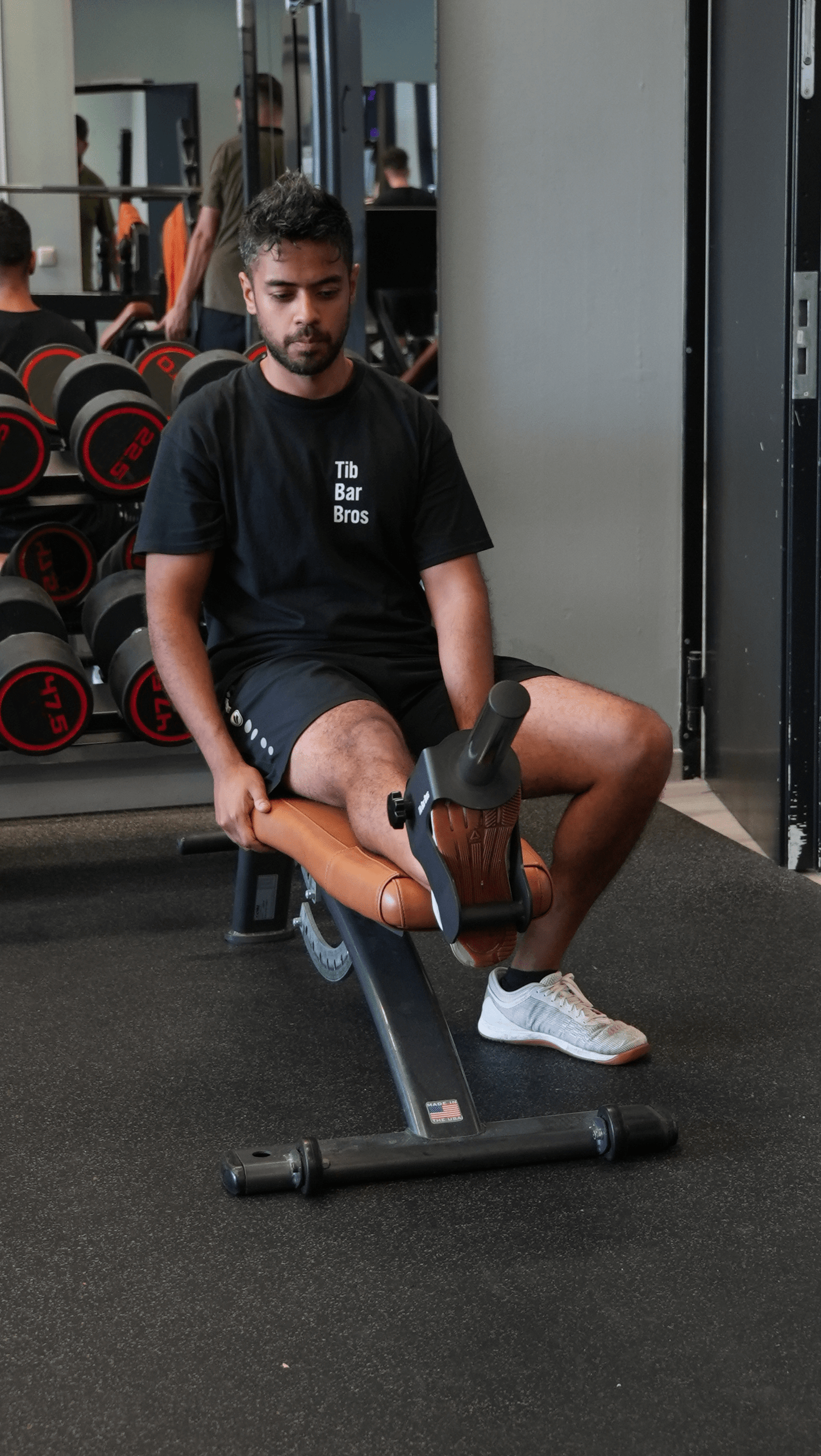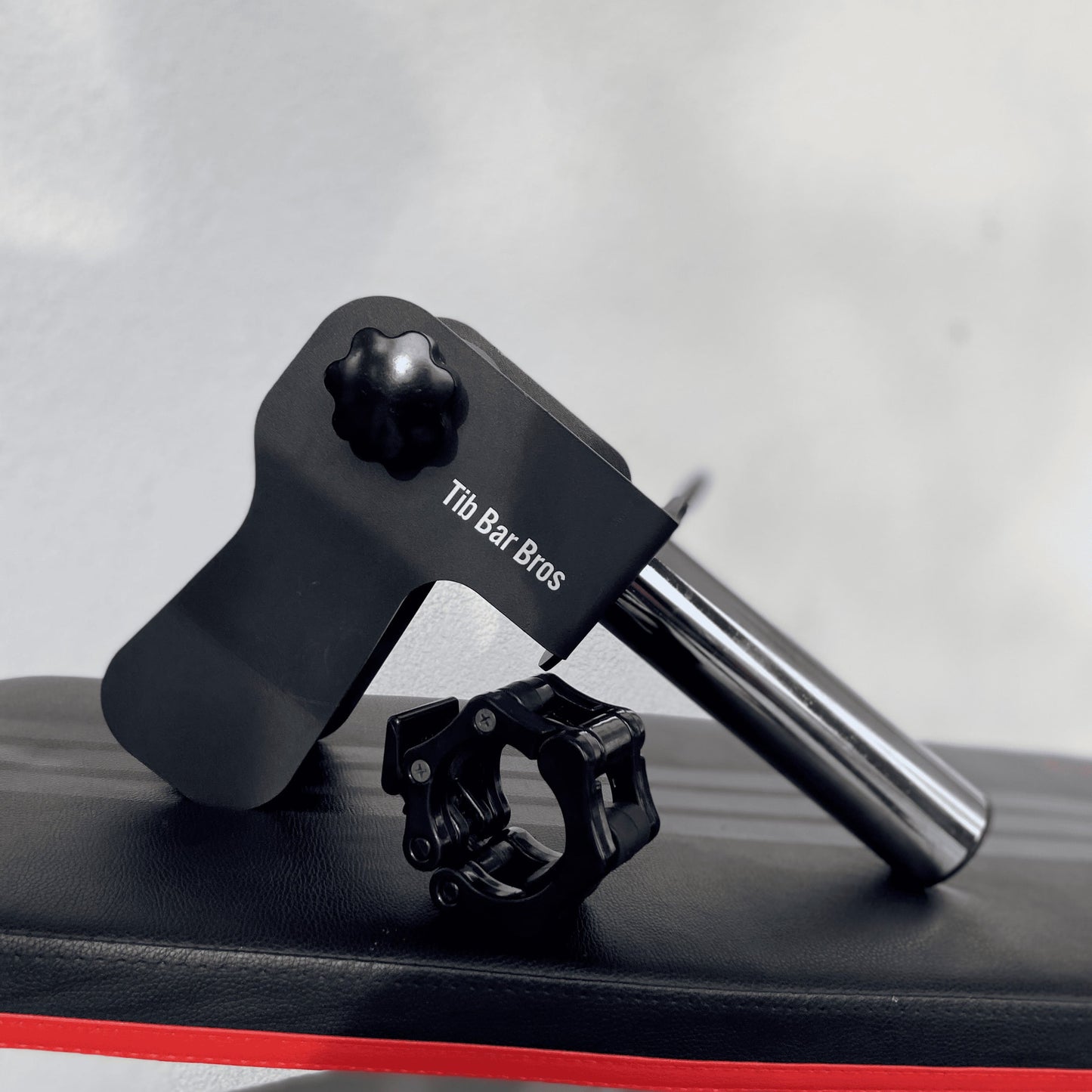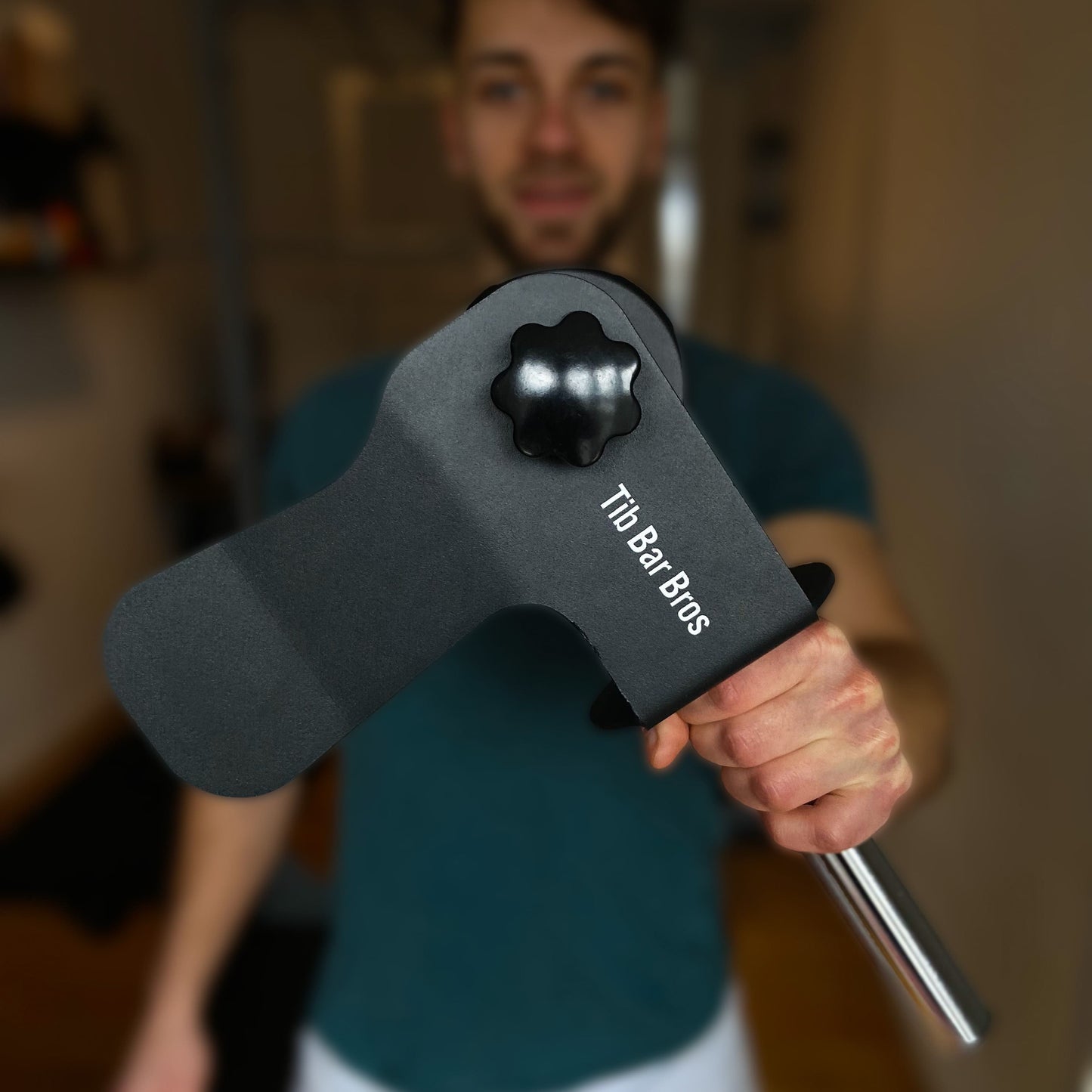 Solo Tib Bar
Erster Eindruck, solides Material. Was ich mir gewünscht hätte wäre eine "Aufbauanleitung/Nutzanleitung" oder zumindest nochmal den Hinweis, mit wie viel Gewicht die Bar belastet werden darf und das man sie z.B. enger machen kann.
Zu dem weiß ich nicht, ob mit meiner Schuhgröße von 38 die Tib Bar zu groß ist, beim ersten Test hatte ich kein festes Gefühl, mal schauen, ob es über die Änderung der Breite etwas besser wird. Ansonsten ein gutes Teil um den Tibia Anterior zu trainieren. Ich habe mich für die solo Variante entschieden, damit jeder Muskel individuell trainiert werden kann.
Anja, das ist eine tolle Empfehlung - wir planen, in Zukunft eine einfache Anleitung und einen Trainingsguide einzufügen.
Sag uns bescheid, wenn du Probleme mit deinem Solo Tib Bar hast!
- Tib Bar Bros (DJ & Lucas)
This product is excellent
Great product for developing the tibialis. At first little bit hard to handle carefully, but after getting used to it works like a charm. The first impression is that this product should also stand the test of time because the parts feel robust and stirdy
Teemu, you got this 100% right - the Solo and all of our other products are built with high-quality materials and high-technique joint-welds.
Keep us posted on your Solo Tib Bar and if you have any questions or issues, write to us at support@tib-bar.com
Enjoy the pain-free ankles, knees, and shins!
- Tib Bar Bros (DJ & Lucas)
Great Tool
Works as intended! If you have problems contact them. I was struggling in the beginning with tightening the tib bar, but now it works great
Lennart, we're always happy to help and ensure that customers are getting the best of their Tib Bars!
- Tib Bar Bros (DJ & Lucas)
Its good...
…but prefer if you could strip the Bar tighter in my foot
Marc, your feedback is a gift! We're always on the lookout for ways to make our products even better, and your comment about the fit is a key point for us. We'll be working on this aspect to provide an even better experience in the future.
When we have our next version of the Solo, we'll shoot you a message!
- Tib Bar Bros (DJ & Lucas)
Gordon, thank you - we got you covered with Europe's best Solo Tib Bars :-)
- Tib Bar Bros (DJ & Lucas)