Regular price
€109,00
Sale price
€89,00
Unit price
per
Sale
Sold out
Quality Materials

Same-Day Shipping

30d Money-Back Returns
For stronger knees, ankles, and shins.

For training the Tibialis Anterior muscle.
Can reduce knee pain and shin splints.
Perfect for Knees Over Toes ATG training.

Including free weight clip.
Why train with the Tib Bar?

With the Tib Bar, you strengthen your Tibialis Anterior muscle. This makes your knees, shins, and ankle joints more resilient and can protect them from injuries. It can also prevent and rehabilitate shin splints and knee pain.

Additionally, it improves the flexibility and mobility of your ankle joint. Popularized by the Knees Over Toes Guy and used in the ATG system, it's perfect for both casual athletes and professional athletes; runners, strength athletes, and ball players alike. You can learn more here!
25mm or 50mm?

This size specification refers to the diameter of the weight plate holder. To determine the correct size, measure the hole diameter of your weight plates.

If the diameter is 50-55mm, then 50mm is the correct size. For 25-32mm, 25mm is the correct size. In gyms and strength training rooms, you'll typically find only 50mm weights. However, many home gym or dumbbell owners have 25-30mm weights.

The included clip ensures that the weight is securely held in any case.
Regular Tib Bar or Solo Tib Bar?

 

Product
Regular Tib Bar
Solo Tib Bar
Image
Training
Bilateral
Unilateral
✔️
Fast and targeted training of the Tibialis Anterior.
Beginner-friendly, as it offers a very stable support.
Possible to train all ankle movement directions: Flexion, Inversion, Eversion.
Several muscles can be trained: Tibialis Anterior and Posterior, Triceps Surae, Peronaeus Longus, and Brevis.
 ➖
Training possible in only one direction of movement (Tibialis Anterior).
Training is time-consuming since legs need to be alternated.
More challenging, as there are more degrees of freedom and hence less stability.
For Whom?
Beginners, Intermediates who don't want to neglect the basics.
When you want to focus on the Tibialis Anterior.
For motivated beginners and intermediates.
When you want to work the entire ankle joint.

 
How to train with the Tib Bar?

During the Tibialis Raise, the ankle is flexed by pulling the toes towards the knee. For this, sit on a flat bench and let your feet hang over the edge. Pick up the Tib Bar with both feet. Pull your toes towards your knees. Control the negative motion and repeat it 15-20 times. You should choose the weight accordingly. 5-10kg is sufficient for most beginners.

Here

you can find more details and a Tibialis training plan.
Product Features

| | |
| --- | --- |
| Material | Sturdy anthracite-colored iron frame |
| Padding | Comfortable HDR foam |
| Weight | 2.6 kg |
| Dimensions | 44 x 34 x 23 cm |
| Max. load | 55 kg |
| Additional features | Including matching weight clip |
Quality Materials – Built to Last

Our products are manufactured using high-quality steel, with superior welding techniques. This ensures you receive long-lasting performance without compromise.
30d Money-Back Returns

If you're not completely in love with your purchase, send it back through our 

Returns Portal

 within 30 days, no questions asked.
Share
View full details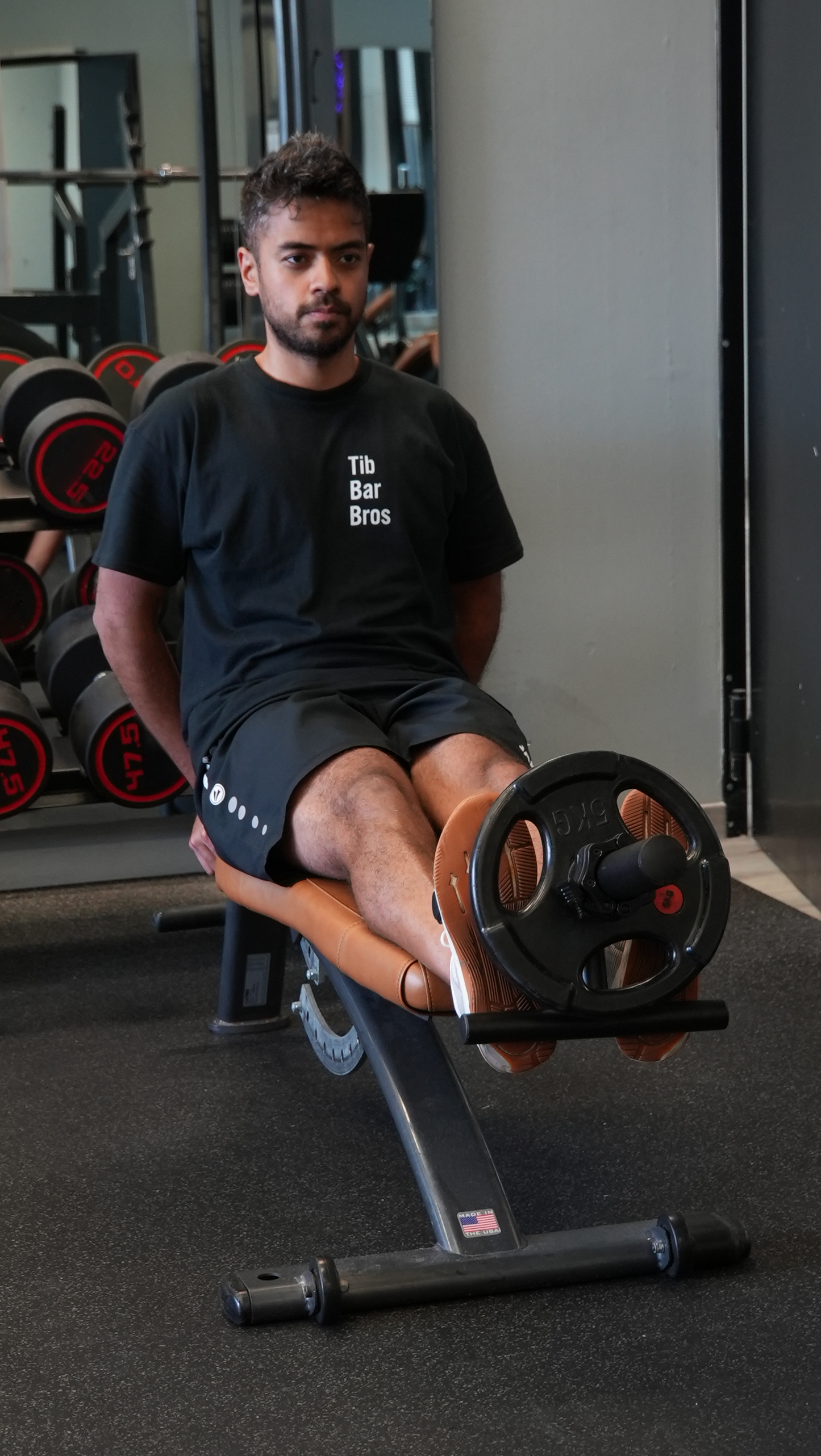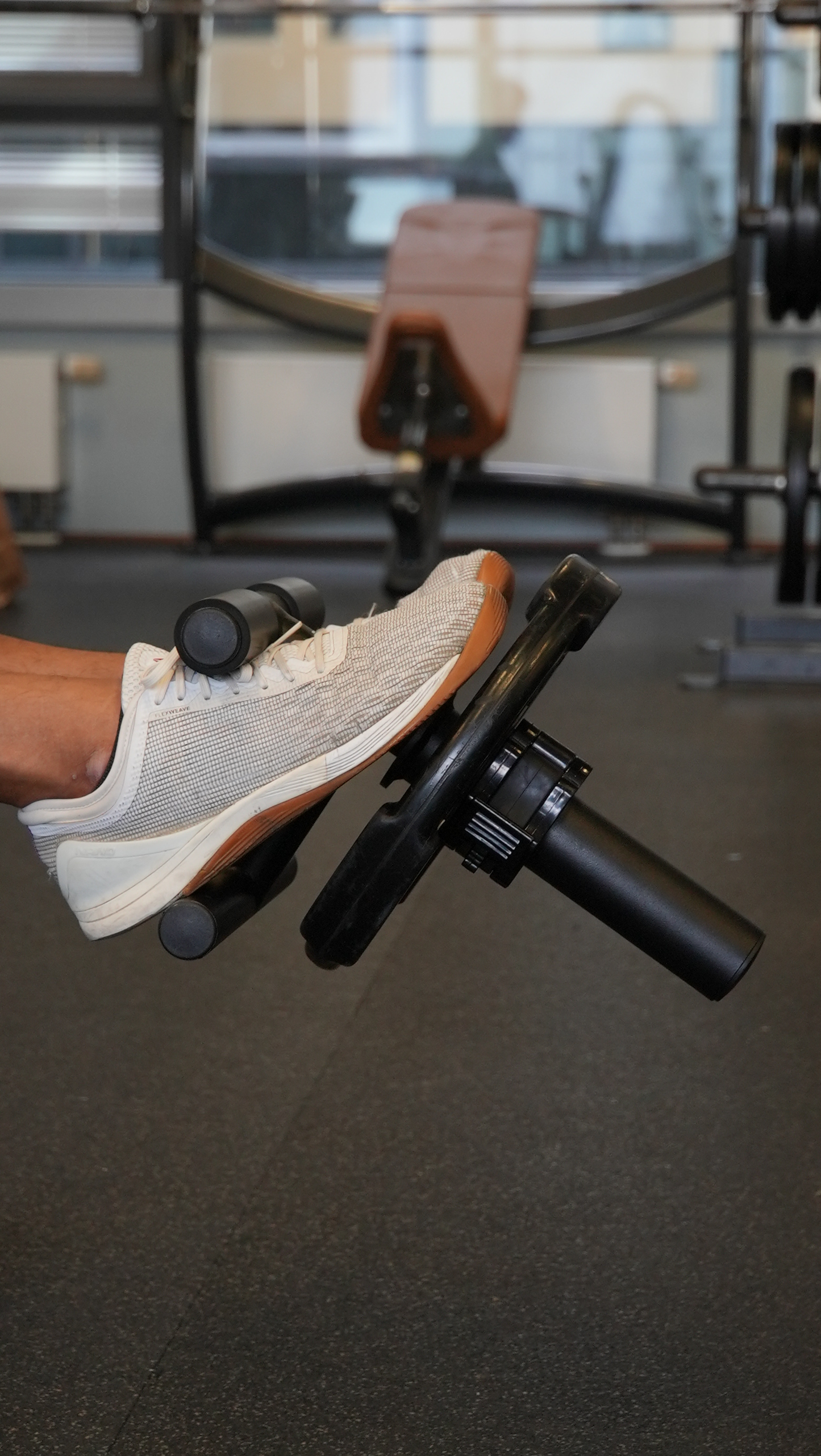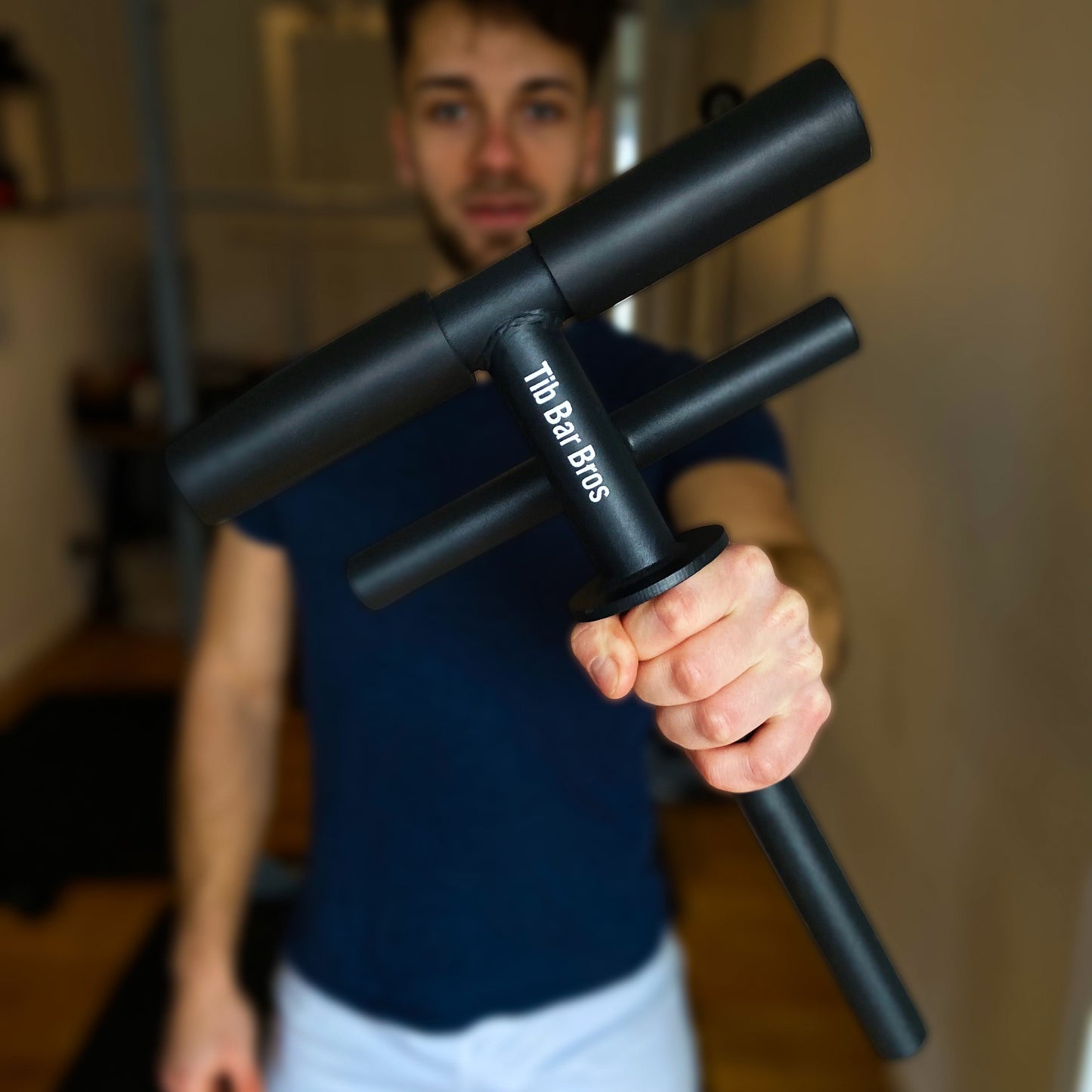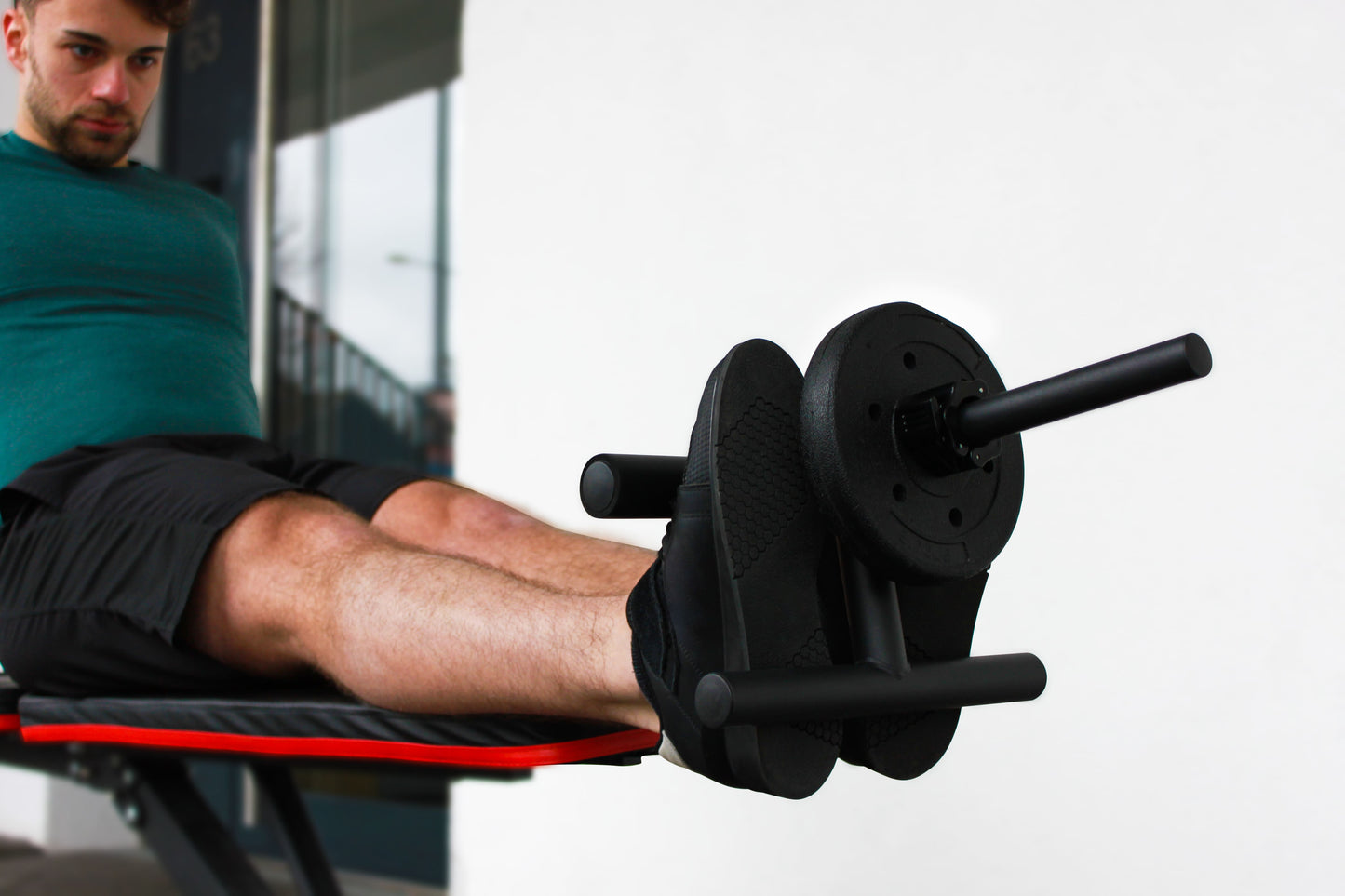 Great Tool!
So far the Tip Bar is an amazing tool to work the tibialis anterior. I love using it in a superset method with calf raises.. my knees have never felt so pumped and strong! Can't wait to see the long term results.
Laurence, isn't the burn with a calf superset, wicked?! That's usually my go-to combo to create longevity and save time!
Glad to hear you're getting your pump & benefits!
- Tib Bar Bros (DJ & Lucas)
Its fine but the price is a bit high
The Tip Bar i got, wasn't perfectly made, but still functional. I know that there isn't much competition on the market and that the prices are that high in general. But it is still a lot for the material. Still was the priciest side i found.
Delivery was totally fine and fast.
Babette, I appreciate your thoughts and feedback! We're glad to hear that the delivery was fast!
While the price can seem high, our pricing ensures the following:
1. 99%+ satisfaction rate for over 3000 customers
2. super-fast delivery of 2-5 days in Europe (sometimes 1 day!)
3. perfect, high-quality AND impactful products.
So yes, the price might seem high but we ensure that your experience with our product, customer support, and shipping is top-notch.
Thank you again for your support and keep us posted on your progress. And also ping us, if you run into any issues!
- Tib Bar Bros (DJ & Lucas)
Tib Bar – Tibialis Trainer
Johan, thanks for the review! We're happy to hear that the Tib Bar is helping you improve your Tib strength!
- Tib Bar Bros (DJ & Lucas)
Great Tool for training
First of all, the device itself is simple, but the idea and implementation are ingenious. I love to train with it. The training feels good, I haven't been using it long enough to say what effect it will have on my shin muscles, but all in all it's a good purchase!
Christian, I'm super happy to hear! Lucas and I have tried different methods with bands and kettlebells but nothing creates that burn and disruption of the Tib muscles like the Tib Bar
Keep us posted on your journey and don't forget to tag us on Instagram (@tib_bar_bros)
Happy Tib training!
- Tib Bar Bros (Lucas & DJ)
Vagner, thank you and we're glad that you can feel the full Tib Bar Bros experience!